Unleashing the Potential of Women in Law
Featuring Patricia K. Gillette, Carol Frohlinger, Epstein Henry Esq, Cathy Fleming and many more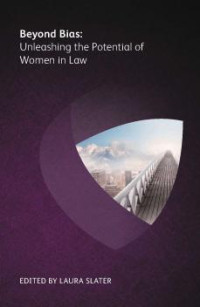 The lack of women in power positions could be costing law firms far more than they think in both economic and cultural terms. Quite aside from the widely accepted understanding that more diverse teams perform better, research shows that it actually costs more and takes longer to replace female partners than their male colleagues.

The problem is far from new but law firms "usual answers" business development training, diversity programs, investment in "women's initiatives" doesn't seem to be having much of an effect, despite the collective millions of firms are spending on these.
Overview:
A new book
Beyond Bias: Unleashing the Potential of Women in Law
highlights the practical steps all firms should be taking to address these issues and start moving the needle. It covers topics including:
The monetary impact of losing and replacing female talent
How firms should be identifying and mitigating female turnover risk
What firms are currently doing to hold on to their female stars - and why it's just not working.
Opportunities for women to maximize the training they are receiving
Moving into positions of power and leadership
How implicit biases and psychological inflexibility prevent women from being offered opportunities to progress
Acceptance and commitment training (ACT) use in recognizing and overcoming internal barriers
Understanding the motivations and preferences of millennial lawyers
The best business development activities to focus on to progress careers
How women can get self-promotion right - and use it to their advantage
Personal perspectives on forging successful careers in the law
And much more...
Beyond Bias: Unleashing the Potential of Women in Law
is packed with exclusive insight, experience, and research from a broad range of lawyers, coaches, academics, thought leaders, and consultants, including:
Patricia K. Gillette has written the second chapter: "Fix it, not them" - Let's blow up the idea that women need special help to assume positions of power in their firms and focus instead in the institutional and structural issues that have prevented women from entering the rooms where power is wielded. This chapter discusses some of the "easy fixes" to the system that can take the place of programs designed to fix the women.
Included in Pat's chapter are:

The Mansfiled Rule
Enhancing opportunities for building client relationships
Scanning performance reviews and feedback for gender inequities
Implicit bias training
Other Key Contributors:
Paola Cecchi-Dimeglio, behavioral economist and chair of Harvard Law School's Executive Leadership Research Initiative for Women and Minority Attorneys at the Center on the Legal Profession
Audra Dial is the managing partner for Kilpatrick Townsend & Stockton LLP's Atlanta office
Cathy Fleming, a partner at Fleming.Ruvoldt
Carol Frohlinger is the president of Negotiating Women Inc
Debbie Epstein Henry Esq, founder and president of Flex-Time Lawyers LLC and co-founder and managing director of Bliss Lawyers
Katherine Larkin-Wong is a Litigation and Trial Associate in the San Francisco office of Latham & Watkins LLP
Ellen Ostrow, is a strategic talent advisor, psychologist, certified coach, and founding principal of Lawyers Life Coach LLC
Janice P. Brown, founder and senior partner in the Brown Law Group